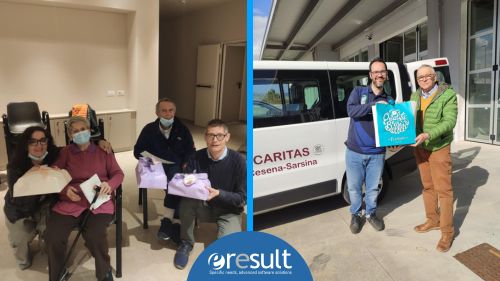 As eResult we want to honor Holy Easter by giving our help to those who are less fortunate and those who are experiencing a time of hardship, to give our contribution so that everyone can live a small moment of sweetness and lightness during the Easter period.
Also this year, we donated some Easter cakes to Caritas of Cesena-Sarsina, whom we would like to thank for their kindness, in the person of director Eng. Ivan Bartoletti Stella. Our Easter cakes will then be distributed to the poor and families most in need.
In addition, we give some Easter cakes to our friends at the Don Baronio Foundation, with whom we are sharing a wonderful project that merges technology and care. Together with the guests and operators we shared beautiful and fruitful months, and it was a source of joy for us to be able to thank them with a small present.
This year solidarity doubles in eResult, and this makes us very happy.
We take this opportunity to wish everyone our best wishes for a happy Easter.