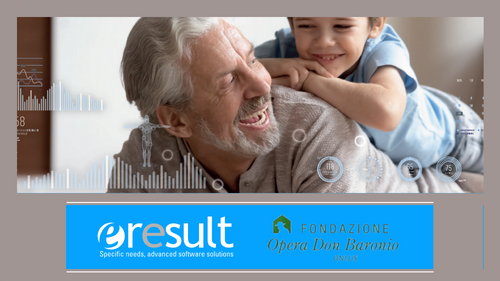 A living lab to test the most advanced technologies for active aging and for supporting the most fragile subjects: this is the core of project born in Cesena, thanks to the agreement between eResult and the Don Baronio Foundation.
It is an ambitious project, which unites a company like eResult which, in recent years, has acquired skills in various areas such as ambient assisted living (AAL), ambient intelligence, healthy and active aging, telemedicine, social welfare and e-health, also thanks to its participation in numerous national and EU research projects, and a reality like the Don Baronio Foundation, a non-profit organization that has been managing various assistance centers for the elderly for over fifty years.
Thanks to this partnership, we will provide the Foundation with the most advanced monitoring and assistance technologies, which can thus be made available to guests, who will be selected on the basis of their suitability, to support and integrate the activities already planned into the various structures.
Moreover, the daily use of our solutions can provide us with important indications regarding their effectiveness and the results that can be achieved with their use: thanks also to the experience and competence of the operators, we will be able to collect useful feedback for the improvement of our products.
Furthermore, the use of our technologies will make it possible to collect data on patients, which can be used both statistically and from a clinical point of view.
A scientific experimentation living lab will therefore be created, one of the few in Europe, with the aim of measuring the results of the interaction between technological solutions and fragile subjects, in a logic of constant improvement that will benefit all parties to the agreement and the people involved.
Thanks to this new partnership, together with the Don Baronio Foundation we will join forces to develop increasingly efficient and advanced technological solutions, to improve the lives of all elderly or frail people who require particular support or monitoring at a certain stage of their life. Being able to carry out this important project in Cesena, in our territory, is a further reason for joy and satisfaction for us.