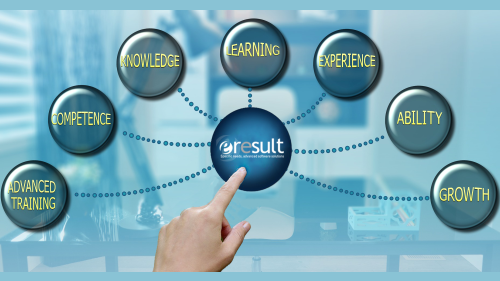 Today, corporate training is considered the most powerful way to promote the business growth process, as it allows to implement technical skills (vertical, the so-called hard skills) and also personal and motivational capabilities (soft skills, such as leadership or strategies to work in team). eResult, like any innovative company, strongly believes in cultivating and improving the skills of its employees, for the growth and improvement of technical, personal, and professional abilities, and each year significantly invests in this practice. If the company relies on professional courses (both internal and external) for the growth of the IT technical skills of its developers, for non-technical roles, and for the growth of soft skills, the company has chosen to rely on LinkedIn Learning. LinkedIn Learning is the platform owned by LinkedIn Corporation, which offers a wide range of targeted courses and exercises, aimed at improving, increasing, and acquiring professional and personal skills, both in terms of technical skills and soft skills. In this way, the company favors not only the deepening of knowledge related to employees' specific job and profession but also the acquisition of new skills, even in transversal areas (such as teamwork, interpersonal communication, marketing …).
Employees can access all training courses on the platform, according to their own free choice and regardless of their specific job, both during working hours and, for those who wish, during other moments of their day.
The Linkedin Learning platform offers to the eResult team an opportunity for inspiration, in-depth study, and constant training on topics, themes and tools useful both for their profession and their personal interests , in a way that is as dynamic as possible and not bound to the classic lectures. All employees can access the courses that best match their preferences, choosing from the high range of those available, whenever they wish, and from the most congenial devices (since the platform can be used both from PC and mobile devices). Linkedin Learning courses are held by professional teachers and are structured through short sessions that analyze the salient points of the topic in a clear and concise manner. Each course consists of several video sessions, depending on the number of topics covered, and at the end of each thematic chapter, there are often exercises to verify the ongoing learning. It is also possible to create "Learning Paths", that are personalized training courses, according to the employee objectives, by selecting different courses of interest that together compose a framework of new skills.
To facilitate the dissemination of internal know-how, a communication channel dedicated to training has been set up in eResult, through which employees can exchange ideas, opinions and suggestions, regarding useful training tools and courses that they would recommend to other colleagues. Furthermore, news is periodically published on the channel, showing the most popular courses. Finally, a reward mechanism is envisaged, with the aim of rewarding those who use the platform in the most profitable way and at the same time encourage others to make the most out of the opportunity offered.